Mark My Listing Closed, However It Will Not Allow Me To Enter The Correct Contract Date
I need to mark my MLS listing as Closed; however, it will not allow me to enter the correct Contract Date and it keeps giving me an error message.
Here is the error message: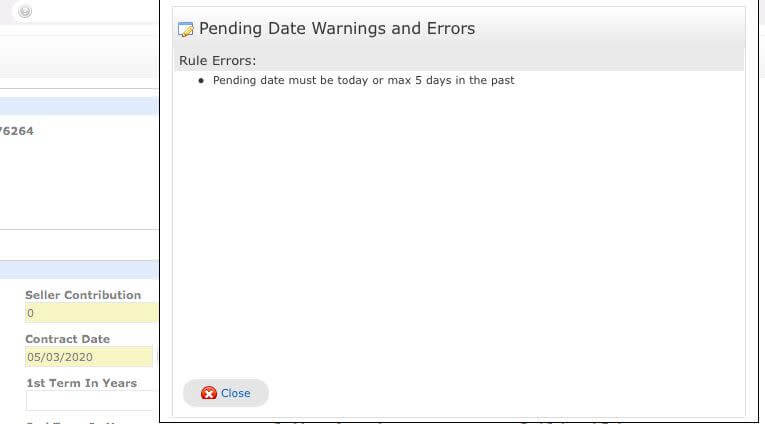 Dates matter! The MLS keeps track of your listing history, so when you place a contract date on the listing initially, the system captures it & automatically updates the contract date as you move the listing into Closed Status. When you go in to close, that same date will automatically be input for you. If you attempt to place any date other than what is in that field, you will get this error message. The system will not let you back date any further than 5 days from the current date.
For example, today is March 3, and you know that the listing is going into contract March 6, so you place a contract date of March 6. It closes a month later and the actual contract date was March 8.
How Do I Mark MLS Listing Closed?
Best Practice: Sign Contract, Then Enter Into the MLS! Update your contract date as soon as you know the true contract date within 72 hours of signing.
If you decide to correct your contract date when you close a month later, you will get this error message. A month later would make the date April 3 and you cannot change the Contract Date to any date beyond March 28 (5 days in the past).
Solution: Mark it closed with the current contract date and send a contract adjustment request to mls@gdwcar.com. Your subject line should read as follows:
Contract Date Adjustment – MLS# – Updated Contract Date
Need An Assist With MLS?
Check out our MLS Resources Hub for helpful tools, support, resources, and more!