Stuff The Bus: Denton ISD Backpack Supply Drive
Greater Denton/Wise Count Association of REALTORS® (GDWCAR) is excited to announce our 2023 Denton School Supply Drive! This year, we're hosting a Denton ISD Backpack Drive. We are only accepting backpacks this year. Looking for backpacks? Buy in bulk at https://bagsinbulk.com/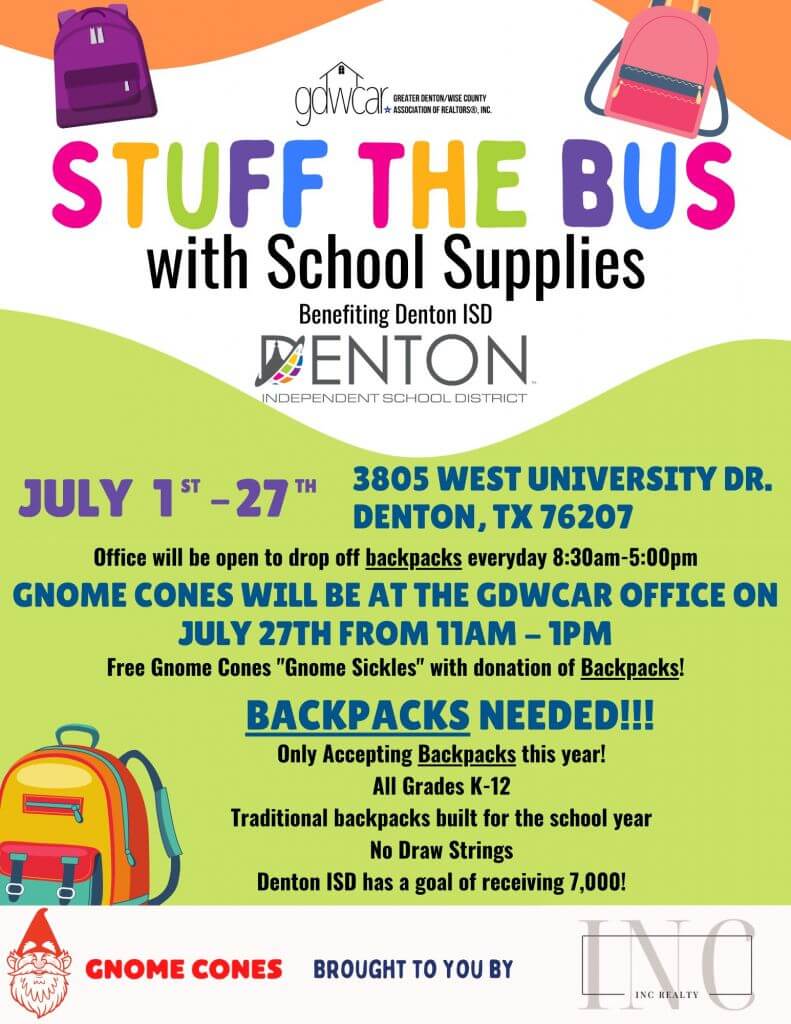 Denton ISD Backpack Drive Info
Our mission is to help Denton ISD collect 7,000 backpacks for students for all grades (grades K-12)! The only requirements are that the backpacks be traditional backpacks built for the school year and that they have No Draw Strings.
We're accepting donations at our office from July 1st – July 27th. We'll have a donation box here open during our office hours Monday – Friday from 8:30am – 5:00pm.
FREE Gnome Sickles with Backpack Donation
Join us at our office on July 27th for the last day of the drive! Gnome Cones will be here from 11:00am – 1:00pm and will be giving away FREE "Gnome Sickles" with the donation of a backpack. A very special Thank You to INC Realty for providing us with this tasty treat!
When?
Tuesday, July 27th from 11:00am – 1:00pm
Where?
3805 W University Drive,
Denton, TX 76210
About the Denton School Supply Drive
Every year, members of Greater Denton/Wise Count Association of REALTORS® (GDWCAR) rally together to provide school supplies for Denton ISD students — benefiting students at schools in cities such as: Denton, Corinth, Shady Shores, Little Elm, Flower Mound, Lantana, and other cities here in Denton County.
About GDWCAR
Greater Denton/Wise County Association of REALTORS® (GDWCAR) is a full-service trade based volunteer association. The membership is comprised of REALTORS® who are bound by the higher standard of professional practices as set forth in the Code of Ethics, Affiliates who serve the member's clients, educators, legislators, and student members.