Posts Tagged 'denton school supply drive'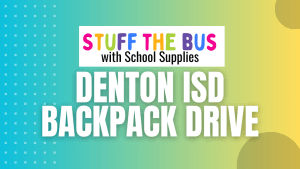 Our mission is to help Denton ISD collect 7,000 backpacks for students for all grades (grades K-12)! The only requirements are that the backpacks be traditional backpacks built for the school year and that they have No Draw Strings.
We're accepting donations at our office from July 1st – July 27th. We'll have a donation box here open during our office hours Monday – Friday from 8:30am – 5:00pm.
Read More