Presented by Greater Denton/WIse County Association of REALTORS® Education Committee

A Very Special Thank You To Our 2023 Sponsors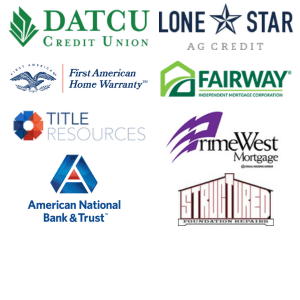 Whether you're a Texas licensed agent needing CE* or you're just looking for a unique learning experience, Super Summit is just that! Boost your career, build your knowledge, and raise your skillset to the next level. Learn best practices, latest tools, and industry trends that will keep you ahead of the curve.
*Attendees requesting CE will require photo ID or Texas REALTORS® Fast Pass.
"Elevate Your Real Estate Business!"
Join us for a full day of speakers, sponsor giveaways, and industry information. Meant to inspire the license holder to better themselves and their business, which ultimately improves how they handle clients and heightens the quality of the real estate industry. This training addresses barriers to success, and how previous conditioning and habits limit what we see as possible.
Register now to save your seat and be eligible for sponsor giveaways.
Embassy Suites by Hilton Denton Convention Center
3100 Town Center Tr,
Denton, TX 76201
Wednesday, October 11th, 2023
9:00am - 2:00pm
Super Summit - "Elevate Your Real Estate Business!"
Wednesday, October 11th from 9:00am - 2:00pm at the Embassy Suites Denton!
Provider: Texas REALTORS® #0001 · Course Number: # 46203 · CE: 3 hours
* ON SEPTEMBER 20th, the cost of Admission will increase to $50 for BOTH Members & Non-Members.
Meet the Super Speakers ready to help you discover your super powers!
BROKER ASSOCIATE
GRI, CREI, ABR, SFR, BPOR, PSA, e-PRO, AHWD, MPR, HCP, HSMP
CB&A REALTORS
I would like to talk about embracing technology so that you are remembered by...well, by everyone. Technology has come a long way and I will show you how to secure more listings with minimal out of pocket cost. It's not buying a book or a system. As a matter of fact the book I wrote has nothing to do with our talk today. I was interviewed for the cover article "Reboot Your Relationship with Technology" TEXAS REALTOR® Magazine June 2021. In 2018 I won an Amazon Alexa Skill Contest and I am a Twitter Insider, and Texas Broker Associate with so many designations and certifications it looks like he has his own alphabet. While the the point of my talk will be about choosing tech to work for you, creating a plan, executing a plan, reevaluating, rebuilding and succeeding we will be using Smart Home Technology and Voice Assistants as our OUT OF THE BOX real life, minimal out of pocket cost example.
Energize Your Social Skills!
Licensed Oregon Real Estate Principal Broker
Real Estate Coach & Mentor
Roaring Agents Podcast
With over two decades of experience in the real estate industry and a degree in Psychology, Mike Rohrig is uniquely positioned to offer invaluable insights into effective communication strategies. At the upcoming Super Summit, he will be presenting his dynamic talk, "Energize Your Social Skills!", where he will harness the power of the DISC Profiles to help agents enhance their interactions with clients, peers, and family members. Drawing from his extensive knowledge and experience, Mike is dedicated to empowering real estate professionals to strengthen their communication skills and foster deeper, more meaningful connections.
7 Ways to Explode Your Business
International Tech Instructor | Certified One Thing Instructor
Michael Tritthart is based out of North Texas and has more than twenty years of experience in conducting educational workshops and small business training. He offers training, marketing tips, and consultation designed to improve your business. Classes are taught in a user-friendly manner that is accessible to both wary computer users and experts.
He earned his BA in Education at the University of Central Oklahoma and obtained his Masters of Education degree from the University of North Texas in 2000. Michael began training agents in 2001 all around the Dallas Ft. Worth real estate market. In 2004, he joined a local real estate market center and provided training and tech support. In 2007, he created his own proprietary training company and began to travel the United States and Canada; providing quality workshops to all who attend. He also began to build his design services team.
Michael comes from a successful real estate family and has trained thousands of Realtors® since 2001. The training team and Michaeltritthart.com website is owned and operated by MTritt INC. The social media/website design team is owned and operated by MTJK INC.
• Head Coach of the Master Networks five plus one Mastery Coaching program
• Master Networks Leadership Team – Director of Coaching
• International Technology Instructor
• Certified by many states to teach multiple Continuing Education Courses
His design team has enhanced over 90,000 real estate websites and social media sites!
Now that you've registered for Super Summit 2023 share it with others.
Below are graphics for you to put on your social media.
Be sure to use the hashtags #SuperSummit2023 and #gdwcar!
Cost of admission is $30 for Members of GDWCAR and $40 for Non-Members.
ON SEPTEMBER 20th, the cost of Admission will increase to $50 for BOTH Members & Non-Members.
For more information on the pricing and to register, click here.
How may I contact GDWCAR with any questions?
For questions about the Super Summit call 940-387-8212.
"Great conference! Keep doing what you're doing!"
— 2019 Super Summit Attendee
"Great summit! Wonderful speakers provided insight and knowledge that will positively affect my business moving forward!"
— 2019 Super Summit Attendee
"Wonderful speakers! I walked away with tools and a changed mindset! I'm excited to implement the others first mentality in my team structure!"
— 2019 Super Summit Attendee